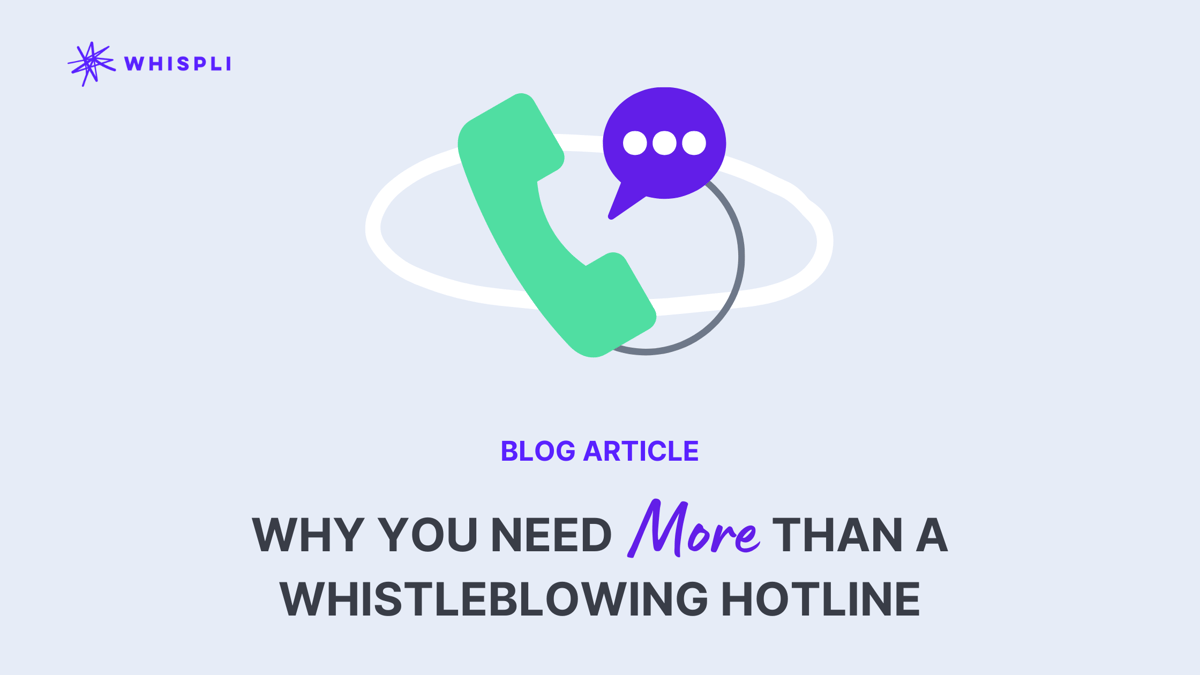 Facebook, Instagram, Snapchat, Google, Uber, Deliveroo, Amazon, Netflix – the list of apps we use in our lives is only growing larger. You can now do just about anything – make a trip, order your dinner, watch a movie, and interact with your friends – without ever speaking with anyone. The internet is the new world we live in, and for a growing percentage of the workforce, it's the world in which they have grown up. With mobile phones, apps, and the web, this group is mobile first, always online, and rarely talk on the phone with someone that is not a close friend. It's how they communicate, and they expect to see web and app options anytime they need to submit information.
So why do most organisations still use a phone-based whistleblowing hotline for making reports? Making a whistleblowing report is an incredibly stressful experience full of anxiety. When employees reach this point, it's essential they can submit a report using a medium they are comfortable and familiar with. For many Gen Y and Gen Z employees, making a phone call creates anxiety, so imagine their anxiety when using the phone to reporting misconduct.
Most employees want to do the right thing when they witness misconduct and make a report. However, a phone-based hotline hinders this. There are many fears an employee faces – the fear of revealing their identity, a hesitation to pick up the phone, or the anxiety of reporting misconduct directly to another person. The net result is a decrease in the number of reports made. As an organisation, you want to encourage reporting so you can identify risk and it's essential to make it simple and easy for employees to make a report.
So what can an organisation do? In this article, we make a case for a more holistic approach, including using an online whistleblowing platform. An online platform provides more flexibility and anonymity than a traditional whistleblowing hotline. We will focus on four ways where a whistleblowing platform can help you power your whistleblowing program.
The Experience The Whistleblower Goes Through
Your ultimate goal with your whistleblowing program is to identify risk by your people doing the right thing and reporting it. However, if it's hard for them to understand how and where to make a report, employees will often not submit anything. Add these to a fear of losing their anonymity by talking with someone, and you see a decline in employees using whistleblowing hotlines.
An online whistleblowing platform helps you focus on the journey a whistleblower experiences. By being entirely online, it allows you to focus on the employee. Through this focus, you can make it simpler and easier to use. These steps help build confidence and encourage employees to submit reports.
An online platform lets you start with the employee and put a strategy in place to focus on:
What is their state of mind when they are making a report? And what information can you provide to encourage them to follow through with their report?
Which reporting channels (web, mobile, chat) will they feel more comfortable using to submit their report?
What information can you provide that will help address any concerns around protecting their identity?
How can you ensure the employee knows you will listen to them and investigate their claims?
Whistleblowing Communication Channels
It's important to use communication tools that your employees use every day. Many of your Gen Y and Gen Z employees do not use the phone like prior generations. They are mobile first and always on the web. So it's essential to use a platform that allows them to make reports online, through their phone, as well as through live chat. Using other tools like QR codes to simplify accessing your whistleblowing platform also help increase usage.
The benefit of an online platform comes through by powering 2-way, anonymous chat. A challenge with a whistleblowing hotline is that a case manager has one chance to ask the whistleblower questions (unless they reveal their identity). With an online platform, the case manager can work to build trust. They know they can reach back out to the whistleblower to ask additional questions during the investigation.
Build Trust By Making It Truly Anonymous
Sometimes what an organisation thinks is anonymous is not viewed the same way by its employees. A phone-based whistleblowing hotline is a great example where employees might worry their voice will identify them. It could be due to an accent, how they speak, or in smaller organisations, their actual voice. A phone-based whistleblowing hotline is also only one-way anonymous. The organisation will need identifying information (a phone number or email) to be able to respond and engage with the employee. A whistleblowing hotline also opens up your organisation to data capture and protection issues you won't have using an online platform that captures everything.
Many of your employees now expect to have a higher level of anonymity than prior generations. The tools and processes organisations use (including your whistleblowing program) must meet these higher expectations. Employees will not view a phone hotline as secure and anonymous as an online platform. When employees worry about revealing their identity, it holds them back from making a report.
Keep It Simple & Easy
An online whistleblowing platform provides not just more anonymity, but also more ease of use. Through the anonymity the web offers, an employee can make a report anywhere using their phone. They can also take their time putting together their report and not feel rushed as they would be having a phone conversation.
Compare this to talking with someone on the phone where you don't know what they will ask or say. Online submission is less stressful, often a lot more accurate, and puts the power of the process with the informant. Tools like QR codes can also make the process simpler and help increase the number of reports you receive.
An online platform also provides more opportunities to communicate and reinforce your whistleblowing program. You can easily link your messaging to where an employee can submit a report. By guiding them online, you are consistently showing them where your whistleblowing program lives and where they need to go if they see misconduct.
Conclusion
An organisation has a vested interest in its employees safely and anonymously reporting misconduct. The challenge organisations face is making whistleblowing accepted, simple, and giving employees the confidence that it is anonymous. When employees speak sooner, you can identify risk and blind spots and take action faster. An online whistleblowing platform helps you achieve these goals and provides you with more flexibility than the traditional phone-based whistleblowing hotline.