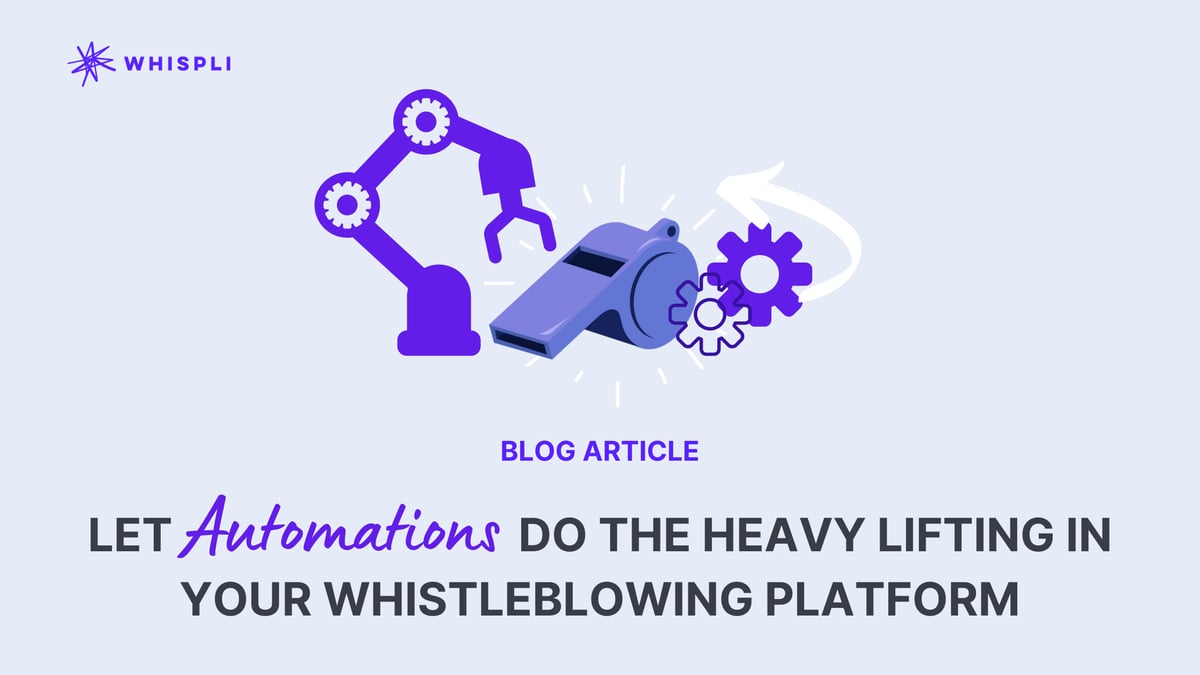 It's imperative for organisations to focus on the experience a whistleblower goes through. In addition, the organisation needs to adhere to its internal whistleblowing processes, which often don't go exactly to plan. When the process is dependent on people, they can forget steps, skip items, or not have the training to know exactly what to do. If an organisation doesn't receive many anonymous reports, it's easy for employees to not adhere to the process.
Automations help companies to think in advance about what business rules need to be followed with each case received. By using automations, a company can have its whistleblowing platform do the heavy lifting for them. With less time focused on the process, case managers can spend more time engaging with the whistleblower. Automations help provide an experience that is more consistent and repeatable for the whistleblower and the organisation.
In this article, we'll dive deeper into how automations can help power your whistleblowing program. We'll discuss what they are, where you can use them, and what benefits the whistleblower and the organisation can expect to receive.
What Are Automations?
Automations help put your business processes directly into your whistleblowing platform, ensuring your organisation always adheres to them. By using business logic, you can determine what will trigger an automation. The trigger can come from the whistleblower or the case manager investigating the report. From the trigger, you can then set the conditions for when an automation would run. For example, this could be a whistleblower submitting a specific answer or an investigator taking an action. Once you determine the conditions, you can then outline what actions will happen.
An example of an automation in practice would be:
Trigger: The whistleblower made a report.
Condition: They answer "financial fraud" to the question "what type of misconduct did you experience".
Action: Your whistleblowing platform assigns the report to the compliance manager, as well as the CFO receiving an alert.
An organisation can have as little as one automation to hundreds depending on its size and complexity. The goal with automations is to take the human element out of the equation. This is especially true for organisations which don't receive many reports. They often have employees who might not know what processes to follow. The human element is still very crucial in whistleblowing. However, the focus should be in dealing with the whistleblower instead of having to remember all of the steps in a particular process.
What Are The Different Types of Automations?
Most whistleblowing platforms will have some form of automation as part of the application. These automations can take the form of:
Event-based automations: A specific action or event triggers this type of automation. The event could be the whistleblower giving a specific answer, which channel they use to submit a report, or some action taken by the case manager investigating a case. In event-based automations, a specific trigger that meets pre-defined conditions will make the automation run.
Time-based automations: Instead of an event, this automation focuses on the passage of time. Typically something has happened (or not happened) within a measure of time that triggers this automation. An example would be an email update sent to a whistleblower if their case has not been closed after four weeks.
What Can You Do With Automations?
With the flexibility automations provide, there are thousands of different actions you can set up in your whistleblowing platform. Many automations are very simple, with the most popular being the assignment of a specific workflow or assigning a case to a particular person.
Other examples of how an organisation can use automations include:
Automate the assignment of cases to individuals or groups of users.
Assign an updated status to the case.
Assign the correct workflow to a case.
Automatically tag a case based on how the whistleblower or case manager responded.
Change the workflow of a case based on how the case manager responded.
Send alerts based on actions taken by the whistleblower or case manager.
Create an individual project including a case(s).
Respond to the whistleblower and acknowledge the receipt of their report.
Provide the whistleblower with an automated update on the status of their case after a certain amount of time has passed.
Reassign cases if the case manager has not taken action within a specific timeframe.
These are some of the typical examples of where automations add a lot value. Being able to choose your triggers, conditions, and actions opens up a myriad of ways you can create automations in your whistleblowing platform.
Do You Need Automations?
At Whispli, we see almost all our customers using automations. Smaller customers use them to ensure when an anonymous report comes in, it goes to the right person and the appropriate managers are updated. For larger organisations, automations play a more significant role in ensuring their whistleblowing platform is operating efficiently. From assigning cases, sending alerts, and keeping everyone on the same page, multiple automations help do the heavy lifting. By thinking about each process in advance and automating each step, nothing falls through the cracks.
Whether you are a ten person NGO or the largest bank in your country, you can derive value from automations. It's critical to think strategically about what activities you want to standardise and have happen like clockwork in your platform.
What Are The Benefits Of Automations To The Whistleblower?
The benefit of automations to the whistleblower shows in the experience they go through. Automations leave less to chance and help provide a more consistent journey to the whistleblower.
The worst experience for a whistleblower is to submit an anonymous report and hear nothing back. A lack of engagement breeds resentment and mistrust. This appears when the whistleblower does not see any action after taking the time (and risk) to report misconduct. Automations are a useful tool to ensure you consistently engage with the whistleblower, even if it's an automatic message. An engaged whistleblower is going to respond and answer your questions. Engagement also helps them feel more aligned with the values of the organisation because they see you doing something. Automations are the glue that helps ensure this engagement happens consistently.
How Do You Get Started?
Automations are something to think about before putting your whistleblowing platform in place. To successfully have automations power your whistleblowing program, you need plan out your whistleblowing processes in advance. A great best practice is to map each step of your process and document it. From this process map, you will be able to identify which steps can be automated and which you will still need to do manually.
Ensure you document what you are automating and make sure once your automations are in your platform, you test them thoroughly. While automations are a time saving feature, there is often a bit of trial and error in the testing phase to ensure they are working properly. Investing the right amount of time testing at the start will save you time over the long run.
Conclusion
Automations are often the hidden drivers of value in a whistleblowing platform. Organisations might initially see them as just a feature when they are evaluating a platform. However, once they go live, they understand the value they can provide. As you plan out your whistleblowing program, think about the business rules you want to apply consistently. Document these so you can leverage automations to make these processes happen every time. Focus on having your whistleblowing platform do the heavy lifting, so you don't have to.