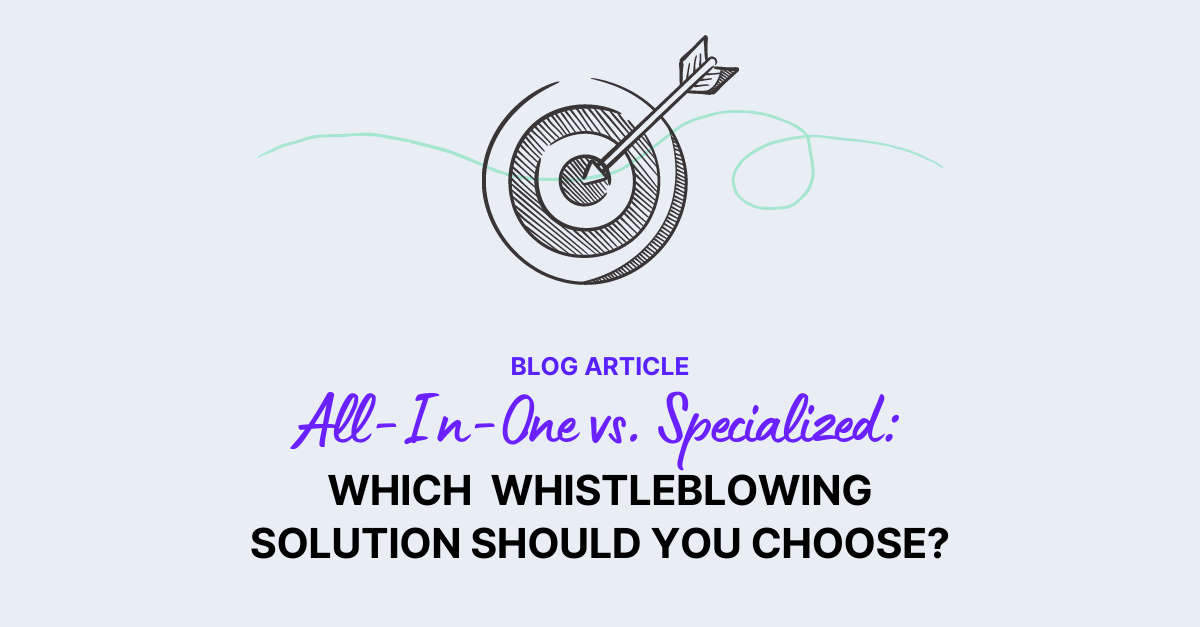 With famous Whistleblowing cases put under the spotlight, new legislation (such as the EU Whistleblowers Protection Directive) are being put forward to better protect people who speak up; in this context, it becomes inevitable for your Organization to have a solid reporting system in place for your stakeholders.
Among the solutions you can turn to when it comes to strengthening your Compliance program, two models stand out:
the All-in-One model, ie. a suite of Compliance tools;
the purpose-built model, ie. specialized Whistleblowing platforms.
In the end, it all comes down to picking the right tool for a long-term professional relationship. But how do you know which type of whistleblowing solution will best support you with your current needs and adapt to your internal governance changes and external legislative landscape?
All-in-One Compliance solutions
Following the traditional "one size fits all" model, All-in-One solutions offer a suite of tools covering several areas of Compliance: a Whistleblowing platform but also other Compliance-related areas such as training or internal policy management, under a single software provider.
Tick all your Compliance boxes
The All-in-One model can be seen as an easy entry option because it ticks all the Compliance boxes and appears to be low-risk. It has been the standard model for a long time and gives an easy-to-manage and high-performance solution, as long as you don't need to solve complex issues.
Unless your Organization is highly process-driven and harmonizing your Compliance Program under a single tool is a must, you will soon encounter operational issues: your business will need the flexibility to bring on different best-in-class or point solutions as the legislation or your needs evolve.
The era of integration
The original argument supporting All-in-One solutions was the promise of compatibility: a single provider to answer all of your issues, even with fewer functionalities, is better than having a mash-up of systems that wouldn't work together.
However things have changed, and we live now in the era of integration. In the case of a suite of tools, you need to have an integration specialist who will provide an industry-specific add-on that specifically answers your needs. This system will cost you a lot every time you need an update on your solution, and the cost of change for sturdy systems such as these ones will be high both in time and money.
Cost of change
All-in-One solution will give you long term stability, but very low flexibility.
This means that the day your needs change and you have to make one of your tools evolve, you will potentially be stuck with a provider that solely integrates with its own suite of software; making this one change take a considerably large scale in terms of costs. Changing your entire solution to adapt to your evolution or having a software that doesn't fit your needs will cost you a lot either way.
Using the right tool for the job
According to a Productiv report, 39% of employees said that not having the right apps slows their productivity. The G2 State of Software Happiness report also highlights that 62% of employees feel that they are not reaching their potential because of a software mismatch.
When it comes to Whistleblowing, the barriers to speaking up and handling cases efficiently are already high: fear, guilt or shame for the reporter, or the challenges of anonymous reporting for Case Managers who need to keep the dialogue open for follow-ups... That's why choosing the right software becomes crucial. Offering a solution that doesn't inspire trust or doesn't have an intuitive interface, will simply add another technological barrier for your employees.
All-in-One providers need to spread their development and IT efforts across multiple products, which will inevitably slow its innovation capabilities in terms of new features, UI and UX.
Specialized Whistleblowing solution
The second model offers a similar solution but is better adapted to the current technologic reality. These specialized Whistleblowing solutions, built by experts, are focused on Whistleblowing and provide a vision that goes beyond the ticking-the-box exercise.
Today, best-in-class solutions are booming, because they better address complex and specific issues, such as Whistleblowing. The average company of 50 or fewer employees uses 40 different software subscriptions, and this number can go over 200 for those with +1000 employees. It's becoming the go-to model for business growth.
Designed by experts
By definition, a specialized solution will give you tools made to solve a specific issue and answer a specific need. Through an in-depth understanding of the reality of blowing the whistle or the challenges a Compliance Officer will face during a complex investigation, a specialized whistleblowing provider will give you all the cards to ensure your Compliance Program is a success, from configuring the tool up to managing change in your Organization. It will give you a head-start in your Compliance Program.
A solution able to keep up the pace
When it comes to development, a specialized solution will give you significantly more flexibility and agility.
In a context where legislations around Whistleblowing are constantly evolving, making sure that your provider can follow your growth while staying compliant at all times will make your life easier. Investing in a specialized whistleblowing platform will give you the guarantee of maintaining an innovative product throughout the year - and you probably won't have to pay any extra to benefit from a top-notch platform.
More specialized tools for better results
Whistleblowing is not the only department that benefits from using a specialized solution. In other areas, like Human Resources, many companies are using tools like Pulse surveys for employee engagement, and another completely different app for their training, performance reviews, etc.
All-in-One solutions are no longer the best fit when it comes to operating specific topics, and an increasing number of companies are moving away from them.
Save precious time with the right integrations
A specialized solution will make you benefit from its flexibility and agility, especially with the use of API. The ability to connect your Whistleblowing solution with the tools you already use and to plug it directly into other applications (such as HRIS, other GRC tools, Bi tools, Teams, Slack etc...) will make you gain time in your investigations and allow you to directly meet your employees where they work.
With a powerful API, your Whistleblowing platform can work seamlessly with your other softwares, which will ensure a strong adoption of the tool by all your departments.
In conclusion
Choosing the best match for your Whistleblowing solution provider ultimately depends on the way you handle processes in your Organization.
Having a patchwork of multiple software is no longer a disadvantage thanks to integrations, and a specialized solution that focuses on the user experience, both for Whistleblowers and Case Managers, will lead to more qualitative reports, easier investigations and hence, better risk management for your Organization.
Get a trusted partner on your team
As a Specialized solution for Whistleblowing, Whispli is the only Whistleblowing platform created by a Whistleblower who then became a Case Manager. We designed our product with a deep understanding of the issues faced on both sides of the mirror.
Our team of experts is dedicated to providing you with the most innovative solution on the market. An internal team of developers will ensure a bug-free product and constant innovations, and our team of Compliance and Ethics experts can help you set up your program and answer any of your questions around the clock, thanks to our global presence.
Whispli offers you an agile and adaptable solution to fit your needs in the long run. Whispli is compliant with all legal environments thanks to several certifications, trusted partners and a scalable configuration. Whispli will provide you with a platform able to follow your growth and meet you exactly where you're at.
We designed a product that works for you. With advanced features such as a powerful case management platform, user-friendly reporting channels, a top-notch API and integrations, you can work faster and more efficiently. Identify more risks, complete more investigations in less time and make more informed decisions.
Schedule a Demo with one of our experts to see how Whispli can help your Organization:
Need a hand?
While you're building a Compliance Program aligned with your goals, it can be challenging to determine what features and technologies are the best match for you.
We created a tool to help you assess your current Whistleblowing solution and needs, to help you highlight your objectives and areas of improvement.