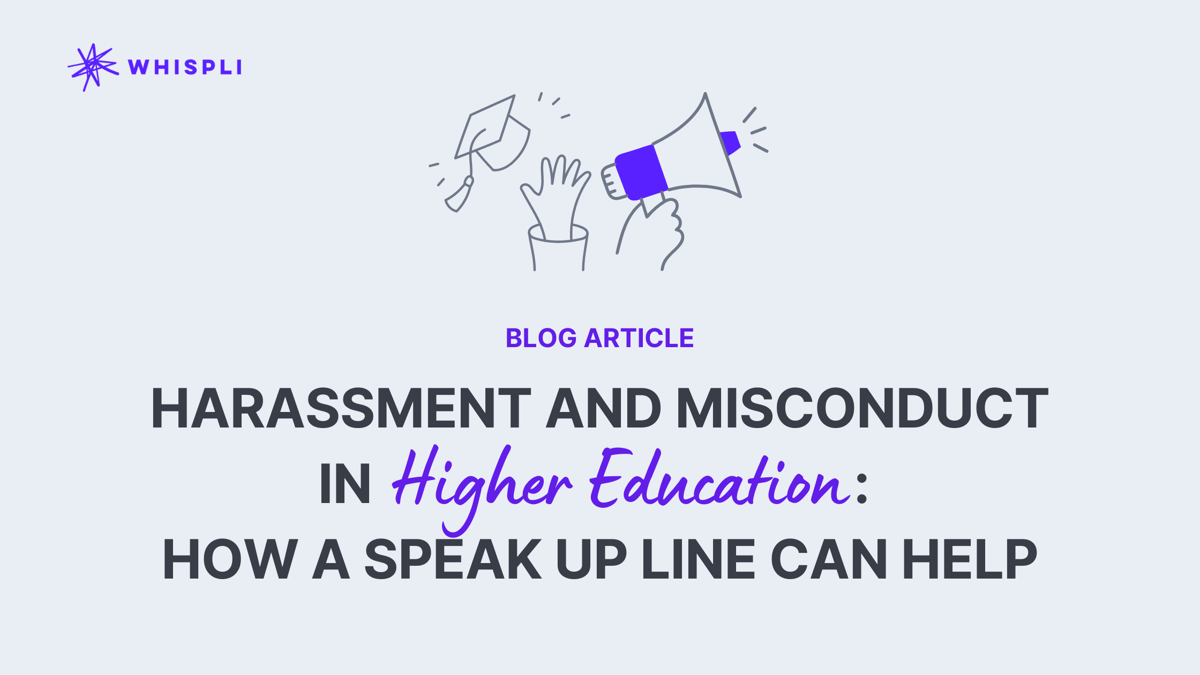 It can be easy to think of a whistleblower as someone reporting wrongdoing in a work environment, such as an office building. Mostly, when a whistleblowing report makes the news, it tends to be of high cases of malpractice in a professional setting. What if we gave students the opportunity to speak up about the malpractice that happens within the halls of a university? Whether it be by a professor or fellow classmates, students are often vulnerable to the changing pace of their newfound independence and confronted with difficult situations away from the safety of where they grew up.
Past examples of harassment, discrimination, racism, and assault on campus and in university classes making the news already demonstrated the need for a better environment in Higher Education. But it doesn't have to reach this extent, and your university can be a safe place where everyone can enjoy and focus on their education if the right tools are available.
Giving students a voice to raise issues
Despite alarming statistics on cases of violence in higher education, it seems that the issue and main challenge for universities is to be informed of what's going on in their classes and on campus before it is too late.
In the US, 41,8% reported experiencing at least one sexually harassing behavior since enrolling in their university. In Australia, with 48% of students experiencing sexual harassment behaviors, only "about one in 20, formally reported the experience that impacted them most to their university. Many thought it would be too hard to prove, or that they wouldn't be taken seriously." In the UK, around one in eight students have experienced racial discrimination on campus. On French campuses, according to a 2020 study, 58% of students are victims of verbal abuse, 40% of racist or homophobic discrimination, and 48% of sexual harassment.
Yet, in 2022, most universities do not have reporting channels available or are sticking to an email address or a phone hotline. With such systems, students cannot report anonymously, nor are they adapted to discuss such sensitive topics. This makes it difficult for them to speak up: they may feel vulnerable to retaliation, bullying, and judgment from their peers.

Meeting students where they are
Using the right channels
How can universities increase their awareness of the issues faced by their students? The problem that many universities are facing is that students aren't speaking out through the channels that are already available to them. Many students don't even know that these systems are put in place, and worse if they're foreign students. Universities are losing historical reputations due to this reason. When the stories make it to the major news outlets, such as those that we have seen, universities have to activate a crisis communication process with expensive PR costs and can't risk losing their reputation. Even worse if students take the university to court.
Being raised in the time of #MeToo, #BlackLivesMatter, and Covid19, the incoming generation is not afraid to speak up online using hashtags about their experiences… but reporting wrongdoings to their elders can still be a scary experience. This generation can navigate the online world perfectly and can find comfort in the presence of their peers who can understand these discriminations. To walk into the Dean's office and have to speak of discrimination or acts of violence can be a difficult experience. In fact, it does not happen often.


Whistleblowing solutions are specially designed to secure feedback while ensuring anonymity, making your campus a safe place for students. In order to reach students with the channels, they are already comfortable with. Choosing a solution that includes a mobile app, chat options, and translations gives you a better chance to connect with them and gather valuable information on your institution's well-being.
Whispli has the additional benefit of being a secure way of enabling trusted conversations. In being given the choice of how to report any wrongdoing that is going on on campus, students can have the courage to speak up about situations that are difficult to do so. On top of it all, it's their choice.

Preventing violences and misconducts: the proactive method
Since the roadblocks to speaking up are difficult to overcome for students, being proactive and making the first step to gather feedback will make addressing issues at the source easier, preventing situations from escalating earlier. By regularly asking simple questions to students anonymously, such as 'have you been the victim or witness of discrimination on campus?' or 'do you feel safe attending this type of event on campus, you can get a clear picture of your campus culture and provide necessary awareness-raising sessions and appropriate training to improve it. You can support the students who provide insights and investigate their claims in a secure way, thanks to the communication channel you have created with each anonymous student.

Implementing a Speak Up Line: what are the challenges?
Often, the idea of implementing a whistleblowing solution where students and staff can safely make an anonymous report in a place such as a college campus can raise some fears: how can we deal with a large number of reports or losing valuable feedback in a pile of "mundane" or false reports?
Dealing with false reporting
"In allowing these types of channels to be used, is there a chance of dealing with false reporting?" This is the kind of question that Whispli gets not only from educational institutions but from any kind of business that is thinking about implementing our platform. The short and quick answer is: yes.
Yet, the person making the false report would have to be highly motivated in doing so. They have to provide detailed information and answer the questions that the organization has set up in their channel. The people handling the reports tend to be very well trained. Most of the time they can pull apart false stories rather quickly and they can always get back in touch with the reporter through chat to check their story out. From Whispli's clients who have had success using the platform, it has rarely been confirmed that false reports have been made.
A student therefore could make up a story and report it. It is a possibility but a very unlikely situation. These kinds of reports can be falsified whether it be by using Whispli or by taking it directly to the administration. If someone wants to lie and is very set on doing so, they will. By using Whispli, a false report can be handled very discreetly, protecting both the whistleblower and protecting the people being accused of wrongdoing. For example, if a professor is being accused of wrongdoing, would a university want to investigate such issues and handle it privately or wait until it appears on Twitter or any other social media platform, damaging both the reputation of the professor and that of the institution?
Having to manage too many reports
Institutions that implement a whistleblowing platform also tend to be nervous about getting too many reports or will receive mundane reports. Whispli makes it possible to handle cases in a very efficient manner. One can gather related issues in a single project, store all evidence in one place and work collaboratively with investigators and other stakeholders to figure things out. In having a platform where it is possible to organize the reports, and work through them as a system instead of a case-by-case approach, institutions can gain deeper insights into their risk areas.
Whispli's goal though is to make conversations happen and make any kind of setting in which it has been implemented a safe place to speak up.

Conclusion
Education holds the power to change society. The foundation of many people's ideals comes from what one is taught. If one does not feel safe in the environment where they are learning, the student can suffer immensely and see a change in their grades. In extreme cases, it can lead students to drop out of school. If you think fighting harassment, bullying, and other misconducts in higher education will be expensive, calculate the cost of letting it happen. Whispli is here to make education a safe environment for all.