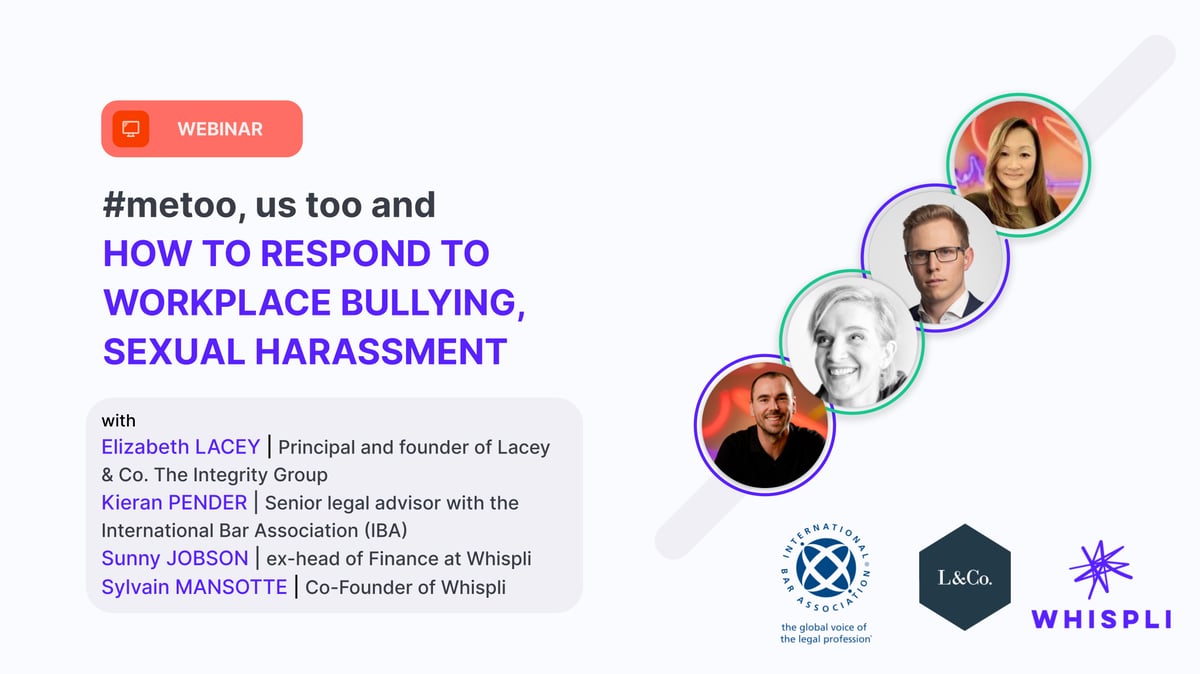 In this Whispli webinar, panelists Elizabeth Lacey, Principal and founder of Lacey & Co.; Kerian Pender, a senior legal advisor with the International Bar Association; and Sunny Jobson, head of finance at Whispli, discussed the prevalence of bullying and inappropriate workplace behavior and solutions for achieving cultural change within the workplace. Moderated by Sylvain Mansotte, founder and CEO of Whispli, the panelists shared their experiences and thoughts on preventative measures organizations can implement now to proactively address these matters.
SPEAKERS
Elizabeth Lacey

Principal and founder of Lacey & Co. The Integrity Group

Kieran Pender

Senior legal advisor with the International Bar Association (IBA) Legal Policy and Research Unit

Sunny Jobson

ex-head of finance at Whispli

Sylvain Mansotte

Co-founder and CEO of Whispli
EXECUTIVE SUMMARY
The people behind the data
The International Bar Association conducted a survey in 2018 of 7,000 lawyers around the world from all parts of the profession. The published findings were "horrendous," according to Pender. One in two female lawyers and one in three male lawyers had reported bullying in the workplace. One in three female lawyers and one in 14 male lawyers had been sexually harassed in work-related contexts. In the words of Kerian Pender:
"We always have to keep in mind when we talk about these subjects that these are real, human stories behind these numbers,
And these incidents and misbehavior take a real toll. And sometimes we can lose sight of that. With numbers and data, we can become desensitized to that.
Calling it a "system problem," Pender shared three real stories of workplace harassment from the thousands they received in the survey. In one, a lawyer shared that she'd been groped on two separate occasions by one senior partner, and when nothing was done about it the first time she reported the harassment, she decided not to report it the second time, highlighting the failure in reporting procedures.
Unaddressed misconduct will escalate over time
Sunny Jobson pointed out that while fraud, waste and abuse are prevalent issues in the workplace, bullying and sexual harassment are more far-reaching. And reporting is a problem, according to Lacey. She explained that the system has taught victims that raising allegations could damage the perpetrator's career when it should be teaching that if the perpetrator continues the behavior it could decimate lives.
Lacey recommended normalizing the conversation about workplace misconduct in the following ways:
Understand the impact and not just intention.
Define terms relentlessly so there's no misinterpretation.
Shift misconduct response so victims feel safe reporting.
Train bystanders to recognize when misconduct is happening.
Making reporting safer and easier
As much of the webinar highlighted, reporting fails when nothing is done on the back of the report or if the victim doesn't feel safe. Mansotte pointed out that Whispli's software allows victims to anonymously report misconduct until they feel safe coming forward. When it comes to fraud, waste or abuse, reporting can remain anonymous, but if the victim of bullying or harassment wants justice or to receive help, they'll eventually need to come forward. Sylvain Mansotte explains:
"To be a whistleblower is hard.
It's like driving a car for the first time.
The more you drive that car the more comfortable you become with it.
He compared this to the "trusted conversations" function of Whispli's reporting software. No matter the topic, it's about guiding people to use the same channels they would normally feel comfortable using so they can anonymously start conversations without worrying about where it will escalate within the organization.
Kerian Pender also made the following recommendations:
Acknowledge that the process is hard. Starting is the hard part, but don't be intimidated by it.

Focus on everyday conduct and the culture that's being promoted due to that behavior. Starting with low-level misconduct will lead to the discovery of more egregious incidents.

Get everyone involved in cultural change. Too often leadership announces directives, but cultural change isn't achieved through policies and procedures alone.

Give potential victims many avenues to use — don't limit reporting to one path.

Create a more diverse and inclusive workplace and profession
Prevention is better than a cure
In closing, panelists agreed that constant feedback is key to creating a positive workplace environment and that starts with tone at the top. Preventing misconduct is an end goal and where workplaces are diverse and safe, productivity and satisfaction are prevalent. The impact of positive behavior by every single person in an organization can be monumental.
Listen to the Webinar to learn more about:
✅ What are some of the "Red Flags" to watch out for
✅ The social and economic impact of Workplace Bullying & Sexual harassment
✅ Initial steps organizations can work towards to drive positive change
✅ Practical tools & ideas available to organizations to set the right ton