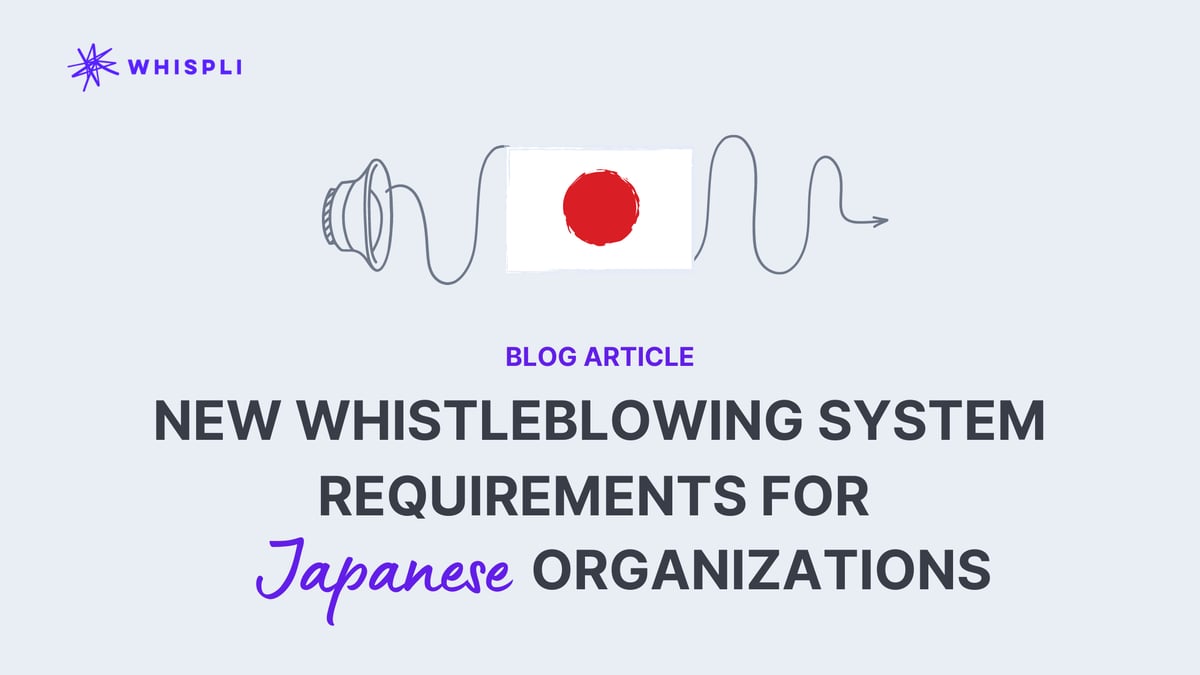 Japan is well known for its solid loyalty-based and collectivist corporate culture, which has made topics such as whistleblowing and speaking up touchy subjects of discussion. However, much like in most countries, the importance of whistleblowers has been recognized in Japan and highlighted in several reported cases of fraud, misconduct, white-collar crimes, and other harmful behaviors over the years. While the importance of internal reporting has been demonstrated, in none of these cases did the whistleblowers have an available internal reporting channel.
The first Whistleblowers Protection Act was implemented in 2004 in Japan and its guidelines were recently amended in 2021. Since June 2022, the newly amended Whistleblowers Protection Act has been enforced, bringing new requirements for Japanese organizations.
Implementing an effective and compliant global whistleblowing system is the main challenge for your organization if you have subsidiaries in Japan.
Here's what you need to know about the new Japanese Whistleblowers Protection Act ("WPA"), its impact on your organization, and the best practices to implement a compliant whistleblowing system.
WPA requirements: overview of the new mandatory obligations
Internal reporting channels
Under the new WPA, all Japanese organizations must implement a system to record whistleblowers' reports and employee concerns. Internal reporting channels were lacking and their importance is primordial in ensuring better protection of whistleblowers.
Implementing an internal whistleblowing system is mandatory for businesses with more than 300 employees, and highly recommended for businesses with 300 employees or less.
In terms of whistleblowing system policies, similarly to the EU Directive, this means that you cannot rely only on a uniform whistleblowing system and policy on behalf of the whole group anymore.
At a global level, organizations need to make sure that their whistleblowing policies match the requirements of all of their subsidiaries. In addition, Japan-based subsidiaries must also have their own internal reporting policy, following the new WPA guidelines.
Extension of the scope of protection and reporting
Until the recent amendment, only employees under contract were granted protection for raising concerns. Today, the scope of whistleblowers who will be protected under the WPA will be expanded to include employees who have retired (within a period of one year after the day of retirement) and officers (including directors, executive officers, accounting advisers, company auditors, and liquidators).
The scope of what can be reported has also been clarified and extended:
Reports on administrative violations, in addition to crimes, are now permitted

Employees can now choose to make reports to administrative agencies, in addition to employers (through internal channels)

In case of serious violations or damage, employees are permitted to report publicly
Obligations of confidentiality and protection against retaliation
When a report is submitted, organizations and all the people involved in handling and processing reports have a duty of confidentiality toward any data or information that could identify the whistleblower. A breach of the confidentiality duty will expose them to a criminal fine of up to 300,000 yen (about $2,800).
Any form of retaliation against whistleblowers, such as pay reduction, dispatch of a contract, or demotion is strictly prohibited.

Education and training of stakeholders
Finally, the WPA requires that employees and all persons involved in its scope are informed and educated about the available reporting options. This includes all current employees, retired employees (within 1 year after retirement), officers, and executives.
Persons in charge of handling and processing the reports must be properly trained and educated on their confidentiality duties and roles.


Japanese subsidiaries and centralized whistleblowing system: what should you do?
Under these new rules, if your global organization has subsidiaries in Japan, you might be impacted by how you manage your current whistleblowing system.
Designation of a local person responsible for handling reports
With an obligation to have local reporting channels, a Japan-based person responsible must be appointed to handle local incoming reports. This person will play a key role in your global whistleblowing system and must be able to be impartial, follow the duty of confidentiality imposed by the new WPA, and ensure the functioning of the reporting channel set up in Japan. The scope of protection, reporting matters, and reporting channel options must be clearly defined and communicated, according to the amended guidelines.

Leverage your local whistleblowing channel as a risk management tool
One key objective for the Japanese WPA is to revitalize whistleblowing and to promote a speak-up culture within organizations. By reinforcing whistleblowing measures and whistleblower protection, you will have a better overview of the global health of your Japanese subsidiary and identify risks earlier. The promotion of trust and safe reporting allows a better mapping and identification of trends and patterns, and how to eliminate them at the source.
The mandatory implementation of internal reporting channels in Japan-based businesses is an opportunity to think of your decentralized whistleblowing management system as a tool for good corporate governance.


Best Practices to implement
Data security and safe data transfer processes
With a confidentiality duty enforced by the new WPA, the data security of the information related to reports are primordial.
You should look for local data hosting solutions, and that any processed and stored data is encrypted and secured. ISO27001 and SOC I & II certifications of providers are good trust indicators when it comes to security.
Anonymity and confidentiality
While WPA's new requirements do not require anonymous channels to be implemented, they should be available nonetheless. Speaking up is an extremely difficult exercise and the fear of retaliation, shame or guilt are just a few obstacles to raising one's voice. Making anonymity an option in your reporting channel can help alleviate these fears and make reporting easier for employees.
A multilingual platform
Having a decentralized whistleblowing system in a global organization means that at least more than one language is spoken by employees. Since reports are required to be made through local reporting channels, it is important to consider the back-and-forth between the whistleblower, the person in charge of processing the report, and the parent administering the solution.
Simplify the reporting experience
Under the new WPA, Organizations must ensure the functioning and efficacy of the reporting system implemented. There is no specific requirement as to what shape the communication channel should take, but to ensure its use and measure its efficiency it becomes necessary to make it as attractive and user-friendly as possible.

To achieve the goal of having an effective reporting system while avoiding external reporting, it is best to turn to employees' habits. By meeting your employees where they work, with tools such as mobile apps and dynamic reporting forms, the exercise is simplified.
Comply with Japanese requirements now and in the future
Given the expanded scope of the Amended WPA, businesses operating in Japan would be best served by ensuring that their existing whistleblowing systems comply with the requirements of the Amended WPA. Further, should business operators not have a whistleblowing system in place, they should consider establishing such a system.

The legal environment is evolving globally and at a rapid pace. You can keep a headstart on compliance and conformity by choosing a tool able to evolve with the needs of your organization.