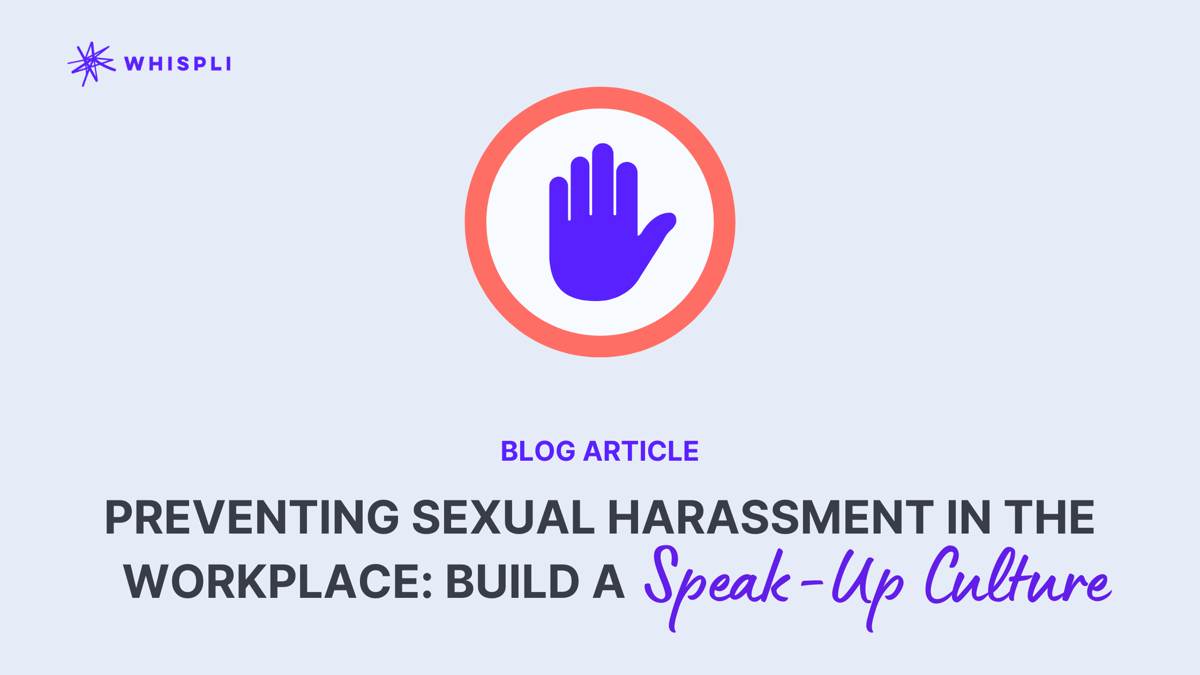 The case of Brittany Higgins in Australia brought the spotlight on workplace safety and sexual harassment, discrimination, bullying, and other gendered violence. The alarming numbers all over the world of similar cases keep telling us that the systemic problem of sexual harassment continues to cause harm. The human and economic cost is huge, and all industries are concerned.
It goes without saying that making the workplace a safer place is urgent and essential for any Organization.
Legislations are not enough
Recently, we have witnessed a rising concern for workplace safety. As a result, whistleblowers protection and new legal frameworks have blossomed all over the world.
After Brittany Higgins went public with her allegation, and in response to the outrage of over 10,000 people urging a reform, Australia's Prime Minister Scott Morrison formally apologized and introduced new legislation to strengthen the rights of workers in Parliament workplaces.
In New York, the whistleblowing law has been significantly expanded and a bill prohibiting mandatory arbitration of sexual assault and sexual harassment claims is on its way to President Biden for signature.
But these initiatives are often coming in response to a scandal, and don't play a preventive role. Due to the slow pace of legal procedure and the sensitive nature of the matter, numbers are not getting lower and the root of the issue is not being directly addressed.

Moreover, new legislations aren't always including sexual harassment matters into their scope, such as the EU Whistleblowers Protection Directive: despite the #MeToo movement, this new European legislation failed to include it.
Setting a frame is necessary, but it is clear that with the shortcomings of local laws, it is up to Organizations to include these topics into their code of conduct and ethical frameworks. Preventing sexual harassment in the workplace starts by setting the tone at the top and supporting new policies with a cultural change within the Organization.
Using your Whistleblowing platform as a powerful tool
Your culture starts with your people, and in order to create a shift towards a safer workplace environment, everyone needs to be involved.
Reporting on sexual harassment or bullying is often more complex and more far-reaching than reporting on other misconducts. Reporting fails when nothing is done on the back of the report or if the victim doesn't feel safe, and unaddressed misconduct will escalate over time. As the saying goes, "prevention is better than a cure", and having a proactive approach to making reporting safer and easier will help start a virtuous cycle where barriers to coming forward are removed as much as possible.

Technology can help: anonymous whistleblowing channels such as an online form or a mobile app can spark up this cultural shift, and empower employees to speak up freely and safely. When aligned with your objectives, your Whistleblowing platform will get you a step ahead and give you better results than simply formulating a sexual harassment policy.
Building a strong speak-up culture
Stamping out sexual harassment in the workplace must start with a solid preventive framework. But despite existing laws and regulations, most instances of sexual harassment are never reported.
Having an effective Whistleblowing Platform is a powerful tool for employees to safely report sexual harassment, but it should not be used as a "bandaid". While having an option to speak up anonymously and using approachable communication channels such as a smartphone app are great, they are useless if nobody trust to use them. Empowering your employees to report cases of sexual harassment starts with building a strong speak-up culture and ethical framework. They should feel safe to report misconduct no matter the communication channel, and face-to-face conversation should always be an option.
By being proactive and learning from previous experiences, you can build a strong culture and start a continuous cycle of improvement. This way:
your people will feel more comfortable reporting harmful behaviors and misconducts;

issues can be detected and solved at an early stage;

employee satisfaction and productivity will increase, and

your Organization will continuously benefit from this virtuous cycle.