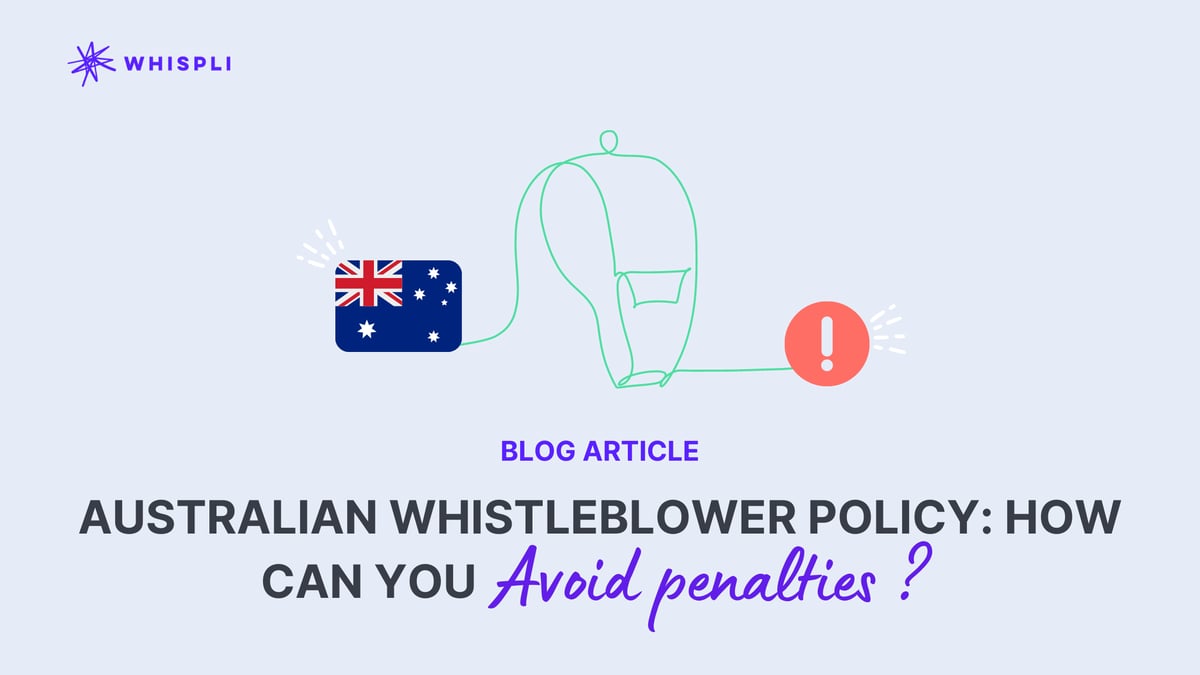 If you own a business in Australia, it is your responsibility to ensure that your whistleblower policy complies with the whistleblower policy under the Corporations Act. Failure to do so warrants severe penalties.
Aside from the criminal penalties non-compliance will bring, you may also have to pay hefty fines that range from a few hundred thousand AUD to over half a billion AUD.
The Australian Securities and Investments Commission (ASIC) recently issued a stern reminder highlighting compliance gaps among business entities.
Blowing the whistle: a work in progress
ASIC Commissioner Seam Hughes issued a statement after conducting a review of 102 whistleblower policies to update corporate trustees, large proprietary companies, and public companies about the potential compliance issues linked to whistleblower policies.
Here are the key takeaways:
The two major deficiencies are incomplete/inaccurate information and out-of-date/obsolete policies.

The findings suggest a lack of understanding from companies about the whistleblower protection regime. They also identified room for improvement in the oversight of whistleblower programs.

ASIC will review whistleblower programs from sample companies. The review will include how companies handle whistleblower disclosures, how obtained information from disclosures is used to address issues and the level of oversight of whistleblower programs.

The ASIC firmly reminds businesses that they will not hesitate to use the full range of their regulatory powers if they see non-compliance.
In short, ASIC's recent press release is a don't-wait-until-it's-too-late note sent to all concerned parties. The Corporations Act requires entities to ensure that the following information is clearly detailed in their whistleblower policies:
✅ Protections available to whistleblowers
✅ How to and to whom qualifying disclosure will be made
✅ How whistleblowing investigations will be conducted to ensure fair treatment of workers named in disclosures
✅ Measures in place to protect and support whistleblowers
✅ How employees and officers will have access to the police if necessary
The accompanying regulatory guide for entities required to have a whistleblower policy or manage whistleblowing clearly details good practices to ensure compliance. The guide also emphasizes the points below, consistent with the recent reminder issued by the ASIC:
It is not enough to establish a whistleblower policy.

Businesses and other required entities must come up with processes and procedures to facilitate the proper implementation of the whistleblower policy.

Review and update the whistleblower policy so issues are identified and rectified.

The ultimate responsibility for the whistleblower policy falls on the board of an entity. They must ensure the risks disclosed will be addressed.

Since the introduction of new whistleblower protections in 2019, authorities have closely monitored compliance and consistently pushed for policy improvement. As a result of such policies, more whistleblowers came forward. For example, there were 817 whistleblowers reports during the 2020-21 financial year compared to 644 during the 2019-20 FY and 278 during the 2018-19 FY.
Why whistleblowing is essential to good Corporate Governance
Whistleblowing protection regulations are increasingly introduced around the world, but the role of whistleblowing goes way beyond mere regulatory compliance. Whistleblowing is a key factor in the good governance of public and private companies.
Whistleblowing is exploding worldwide. In 2021, authorities in the United States handled 12,200 whistleblower tips. The same is true for Europe, where the number of whistleblowing complaints went up by 40% in 2020-21 FY compared to previous years.
While still a work in progress, whistleblowing is beneficial for businesses. By empowering individuals to speak up safely and anonymously, sharing concerns, providing feedback, and reporting misconduct or unethical wrongdoings, Organizations can uncover critical internal issues sooner before they have a devastating impact. Early detection of fraud, embezzlement, bribery, data breaches, unsafe workplace, harassment, discrimination, and other unethical misconduct, means preventing large fallout and significant financial losses.
How Whispli can help your team report misconduct and stay compliant with whistleblowing Laws
If you want to protect your brand from potential misconduct, fraud, and other threats, you need a tool that enables your people to speak up without worrying that their safety will be compromised. That's where Whispli comes in handy.

Whispli is an easy-to-use and secure tool that allows your team members to be proactive in reporting bad behaviour and potential threats to your business. It is an evolutionary tool that ensures compliance with the evolving whistleblowing regulations.
Protect the culture of your Organization by using the best whistleblowing solution.